Choosing the best landscape design for your Miami, South Florida home sometimes can be tricky. There are many design elements and variables to sort through, it's easy to see why a person can be confused when trying to decide what the best landscape design is. You want a landscape that's not only beautiful but fits your personal needs as well, for example having a tree that provides great shade and fruit, like a mango or avocado tree. You can't decide whether to go with a Mediterranean look or Tropical Design? You have many design choices with numerous landscape elements to consider.  Your design should flow with the architecture of your home, inside and out.
Landscape Designer John Zito of Zito Landscape Design in South Florida is here to help. Zito has over 40 years of experience designing residential and commercial gardens in South Florida and has put together his top landscape designs for beautifying your outdoor space. In this article, he'll discuss the best landscape design for Miami and the elemental factors that make them work. So what is the best landscape design for your Miami, South Florida home? Here are John's top ten landscape designs for Miami:
• Italian Landscape Design– Mediterranean gardens are best known for their casual elegance. The inspiration for these gardens comes from the coastal areas of Spain, Italy, and France, this landscape style combines relaxed materials and plants with formal accents and designs. Imagine spiral topiaries, lavender, cypress trees and ornamentals combined with terracotta pots, tiered fountains, roman columns and Greek statues. That's a pretty picture!
•  Tropical Landscapes in Miami are most ideal as South Florida is naturally tropical. Imagine a Tropical Landscape full of hummingbirds and butterflies, exotic flowering bat plants whose whiskery flowers are 20″ long, fragrant trumpet flowers perfuming the night air and the creaking sound of bamboo as it sways in the wind. Small waterfalls flowing into ponds filled with papyrus, lotus flowers, and koi fish. The icing on the cake is lying in a hammock between two coconuts as you sip cold ginger tea and listen to the birds sing. That's paradise….Tropical is the best landscape design in Miami and South Florida when it comes to lushness, rapid growth, and plant variety.
•  Certified Wildlife Habitat– These gardens hold a special place in my heart as they're all about connecting with Nature. With the continued development of Metropolitan properties, more of the natural environment is removed including the soil, to be replaced with huge homes, concrete and small lawns. In my line of work as Landscape Designer, I'm digging all day long in construction fill, bottles, concrete and whatever is left over from the site. The first step for creating balance is to take care of the soil by rejuvenating it with organic material. Then we plant the prettiest of native trees, shrubs, flowering vines, butterfly and bird attracting plants, grasses and ground covers. The result is an outdoor space full of songbirds, butterflies fluttering about, frogs singing at night and a place for all to find solace, a natural sanctuary. This is the best landscape design hands down for attracting wildlife to your Miami home.
• Healing Garden Design– If there's a garden I'd prefer to install the most, it would be the Healing Garden. In our fast-pacing, chaotic world, it's easy to feel the effects of stress and become unbalanced or even ill. If you're looking for an incredible way to bring healing and meditative calm to your space, then you've met your future garden. With restoration of the body, mind, and spirit at its heart, it is infused with many divine and delightful elements. We use things like sacred geometry, scent, color, sound therapy, water features, herbal and medicinal plants, meditation and prayer niches, edibles, and various wildlife attractants among others. Imagine being greeted with the fragrance of a joy perfume tree each time you come home from work or relaxing on a bench near a fountain listening to songbirds. Butterflies always in a chase, hummingbirds nectaring on native flowers. If you want a Sanctuary, a place of solace, Healing Gardens are the best landscape design in Miami for finding balance and peace of mind.
• Bamboo Retreat– Adding bamboo to your landscape can be perfect for many situations. Let's say you've got a building next to your property that you don't want to see anymore or don't want your neighbor to see you skinny dipping in your pool, bamboo as a privacy hedge is ideal due to it's fast-growing nature and non-invasiveness. (we only install clumping, non-running bamboo at Knoll Landscape Design)  The Bamboo Retreat Designs we create are lush, tropical, exotic and elegant, each unique in presentation and impact. Imagine a small bamboo forest surrounding a clear water limestone pool with koi fish, water lilies, orchids, and flowering bromeliads, a true vacation getaway in your backyard!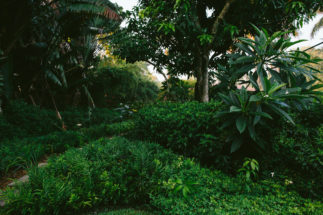 Depending on your landscape needs, you might want to vary the height of your hedge or privacy screen to make it more visually interesting. That means choosing trees and shrubs of different heights. When you're looking into shrubs and trees, you'll also need to consider how much sun and shade they get, as different plants have different needs.