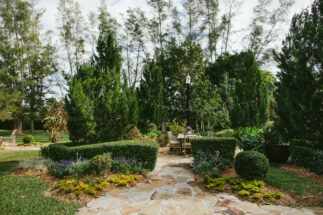 Sustainability is infused into every landscape design we create. We design yards packed with native plant species that are water-wise and low maintenance. These native landscapes attract all sorts of pollinators and native wildlife. We reduce water use and reduce waste produced wherever possible. It turns out that working with nature creates a yard that's better for you and the environment! We incorporate these landscaping practices and more across three major areas:
PLANTS
Plant selection plays a critical role in sustainable design. Featuring native plants and noninvasive species is scientifically proven to improve environmental conditions in many ways including creating habitats for native species.
Increased Biodiversity

Water Conservation

Carbon Sequestration

Soil Health
LANDSCAPE MATIERIALS
Using sustainable building materials can help to reduce the environmental toll of your landscaping. We focus on materials that are durable, recyclable and reusable, made with eco-friendly practices, and low impact on your environment.
Water Conservation

Native Florida Plants

Waste Reduction
LANDSCAPE MAINTENANCE
A thoughtful use of plants and materials is the surest way to make your landscape low maintenance. We keep upkeep green and wildlife-friendly with electric equipment, organic treatments, composting, and more.
Increased Biodiversity

Water Conservation

Waste Reduction

Soil Health