Adding a water feature to your yard has endless benefits. Not only does it create a soothing sound and visual beauty, but also adds texture and movement to each landscape design.
A correctly placed water feature can change the whole feel of your yard, taking it from a boring, unexciting piece of grass to a rich, tranquil oasis. Read on to find the top benefits a wa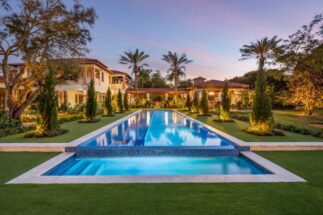 ter feature will provide:
1. Water features create a one-of-a-kind tranquil, magical outdoor space.
Water features can literally transform a plain, unappealing yard into a cozy, nature-filled getaway. Stepping outside, the sounds of cascading water will drain away the stress of your day. Guests will be treated to an outdoor space like nothing they've ever seen before.
2. Health Benefits.
The soothing white noise of a water feature has a naturally calming effect on your brain, similar to that achieved with meditation, which can reduce stress and anxiety.
In addition, moving water also creates negative ions in the air which have numerous health benefits. In the environment they purify the air, reducing things like allergens, pollen, germs, and dust mites.
Water features are also believed to increase energy, focus, and alertness while reducing stress and depression. This purification of your yard environment will have positive effects on both you and your family's health.
3. Water features attract wildlife.
You won't be the only one who loves the addition of a water feature to your yard! You will be able to watch as birds, small creatures, and beneficial insects frequent your yard, add to the magic of your outdoor space and create harmony with the natural world around you.
4. Reducing noise pollution.
A water feature can significantly reduce noise pollution from outside a home or business. The sound of moving water can block out sounds such as traffic and highway noise, noisy neighbors, or neighboring business sounds.
5. Increasing home value and curb appeal.
The addition of a water feature to your yard not only provides aesthetic and health benefits but also increases the value of your home. Curb appeal is increased for features visible from the street, and resale value will go up as potential buyers see your water feature and imagine themselves sitting outside and enjoying your natural oasis.
6. Flexible for any landscape.
Water features come in an endless variety of sizes; no space is too large or too small. In constricted spaces, small fountains can be tucked into corners providing the sound you want without taking over the yard. In larger areas, waterfalls or cascading streams can outline and define the space into one or multiple entertaining areas.
7. Low maintenance options.
Water features such as pondless waterfalls, wall fountains, and fountains made from pots, boulders, and stumps add the beauty and sound of a water feature with minimal maintenance.
8. Custom landscaping.
Adding a water feature gives you the opportunity to make your yard unique; no two water features are the same. Every aspect of your water feature will be specially designed for your space and your design tastes.
9. Eco-friendly.
Many water features actually use less water than would be needed to maintain a piece of lawn in the same area.
The benefits of adding water features to your landscape design are endless. You can create a natural environment, a place to entertain, or a simple oasis to relax and unwind each day.
Kids and adults alike will be thrilled watching the birds and animals coming through your yard, and your guests will be left with a lasting impression of how unique and magical your yard is.
If you would like to transform your yard space into a natural, inviting, and tranquil retreat by adding a water feature, call 662-501-0181 to schedule a free consultation with our designers. We will sit down with you to discuss different water features and determine which one will best suit your needs.