Florida Plant Spotlight: Agapanthus
Agapanthus, often known as the Lily of the Nile or African Lily, is a landscape stable in the warm-winter regions. With its long evergreen stem and strap-like leaves, this easy-to-grow plant produces a beautiful globe of blue, purple, or white trumpet-shape flowers. The Agapanthus is typically in full bloom during the summer and fall seasons in spots where it gets ample amounts of sun with a bed of moist soil. Due to its versatility, this plant can be used as an accent, border, foundation plant beneath windows, or ground cover. It requires minimal maintenance, but it is suggested to divide the Agapanthus every 3 to 4 years to keep the clumps healthy and vigorous.
For residents living in cool-winter areas, the Agapanthus can be placed in containers and moved to a cool spot where they only need to be watered once a month. During the spring, the Agapanthus can be moved back outdoors after all the frost has passed. Typically, potted Agapanthus blooms best when the plant is slightly root-bound.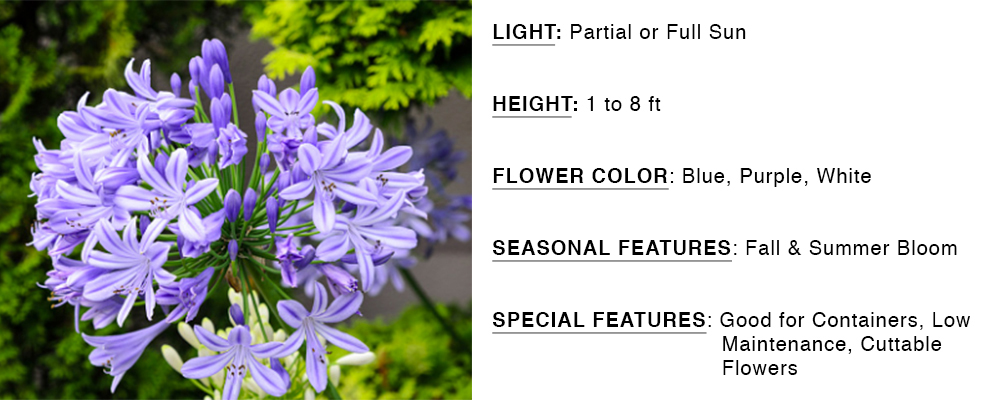 Contact Your Southern Florida Landscape Designer
The Agapanthus is only one of the many plants that are suitable in Florida's warm weather environment. If you would like to know more about this versatile plant and its many uses for landscaping your outdoor space or garden, please feel free to call us (800) 673-9161 or fill out our online contact form. We strive to provide quality landscaping service in the Miami and Fort Worth area to ensure your living environment is beautiful and up to your standards.
Depending on your landscape needs, you might want to vary the height of your hedge or privacy screen to make it more visually interesting. That means choosing trees and shrubs of different heights. When you're looking into shrubs and trees, you'll also need to consider how much sun and shade they get, as different plants have different needs.