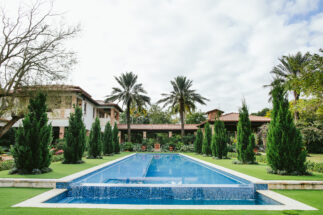 We specialize in swimming pool designs. We are licensed landscape architects with over 50 years experience designing award-winning swimming pools and the surrounding landscapes. We start with a landscape master plan that integrates your new swimming pool with the many other aspects of the landscaping, such as: patios, walks, steps, walls, plantings, privacy, grading, drainage, and landscape lighting, to name a few. Further, we provide exciting ideas to make your swimming pool unique and special to you, such as adding spas, waterfalls, sun decks, and/or custom shapes.
Our landscape design process is a collaboration with our clients. We are experienced at swimming pool design and enjoy managing all aspects of your swimming pool landscape project. Swimming pools are major additions to your landscape. Just as you would hire an architect to design an addition on your home, it is important to hire a landscape architect to design your swimming pool and backyard landscaping. After the design phase, we install all aspects of your new landscape.
1. We determine the optimal location for your new swimming pool in your backyard. First, we interview you and your family to learn about the lifestyle you would like to accomplish in your backyard, such as maximizing lawn areas, or patios areas, or installing a butterfly garden for the children. Second, we study site conditions, such as grades, sun angles, and off-site views. Third, we research zoning guidelines that are particular to your site, such as setbacks and impervious coverage allotment. Taking all of the information into account, we prepare a landscape master plan that locates your new swimming pool in the most ideal location in your backyard.
2. We plan out all aspects of your swimming pool project in our landscape master plan. There are many important factors to plan for when adding a new swimming pool, such as grading, drainage, patios, walls, walks, steps, ornamental plantings, privacy plantings, and lawns. In addition, you may want incorporated in your landscape plan some of these features: shade structures, hot tubs, outdoor kitchens, outdoor fireplaces or fire pits, and landscape lighting. For over 40 years, our specialty is integrating all of the landscape features you desire into a clear and beautiful landscape master plan.
3. We can prepare multiple design options for your swimming pool design. If you would like, we can explore in our designs several options, such pool shape, pool location, and pool accents like waterfalls. We can develop several landscape plans for you and after we present each option to you, you can select your favorite. Each design option will be presented with a budget, so you can make an informed decision about which options you would like to proceed with.
4. We can explore swimming pool designs at a variety of budgets. The design phase is the most important time for determining a budget. When designing your swimming pool and the surrounding landscape with Zito Landscape Design, we explore a variety of design and material options so you can make an informed decision. We can explore a variety of pool sizes and shapes that effect the budget. In all cases, we always present design and material options that will give you a beautiful landscape project.
5. We handle all aspects of the construction phase, so you don't have to! A swimming pool project comes with many moving parts, from preparing engineering drawings, to permitting , to scheduling multiple contractors. We specialize in handling all aspects of this complicated project and keeping you informed all the while.
6. We make the design and installation process smooth and easy. Please enjoy reading some client testimonials and viewing some of our award-winning swimming pool project.